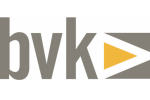 250 West Coventry Court Suite 300
Milwaukee, Wisconsin 53217
United States
Toll-Free Number: 888 347-3212
Phone: (+1) 414 228-1990
Fax: (+1) 414 228-7561
Founded in: 1984
About Us

Founded in 1984, BVK has grown to become one of the Top 25 largest independent ad agencies in the country. Across our offices we are linked by our common passion to create success for our clients. BVK is often referred to as idea driven and solution-focused, we have the talent and resources of... read more

Agency Type

Advertising / Full Service / Integrated

Contacts

Joel English
Managing Director, Health & ..


New Business

Public Relations

Sara Meaney

Managing Director, Earned Me..

Phone: (+1) 414 228-1990

smeaney@bvk.com




Gary Mueller
Executive-VP, Creative Direc..


Bret Stasiak
Managing Director, Account S..