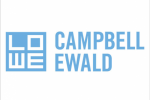 Lowe Campbell Ewald,
Detroit
Follow
Update
2000 Brush Street, Suite 601
Detroit, Michigan 48226
United States
Phone: (+1) (586) 574-3400
Fax: (+1) (586) 393-4657
Campbell-Ewald, Ad Council and HHS tap President Obama for new Fatherhood PSA campaign
June 19, 2009

Warren, MI This Sunday marks the centennial celebration of Father's Day. For Campbell-Ewald's client, the National Responsible Fatherhood Clearinghouse (NRFC), it's a monumental event -- one that was made even more significant when President Obama agreed to lend his influence to a Public Service Announcement (PSA) campaign. The new PSAs, coinciding with Father's Day, are designed to highlight the...