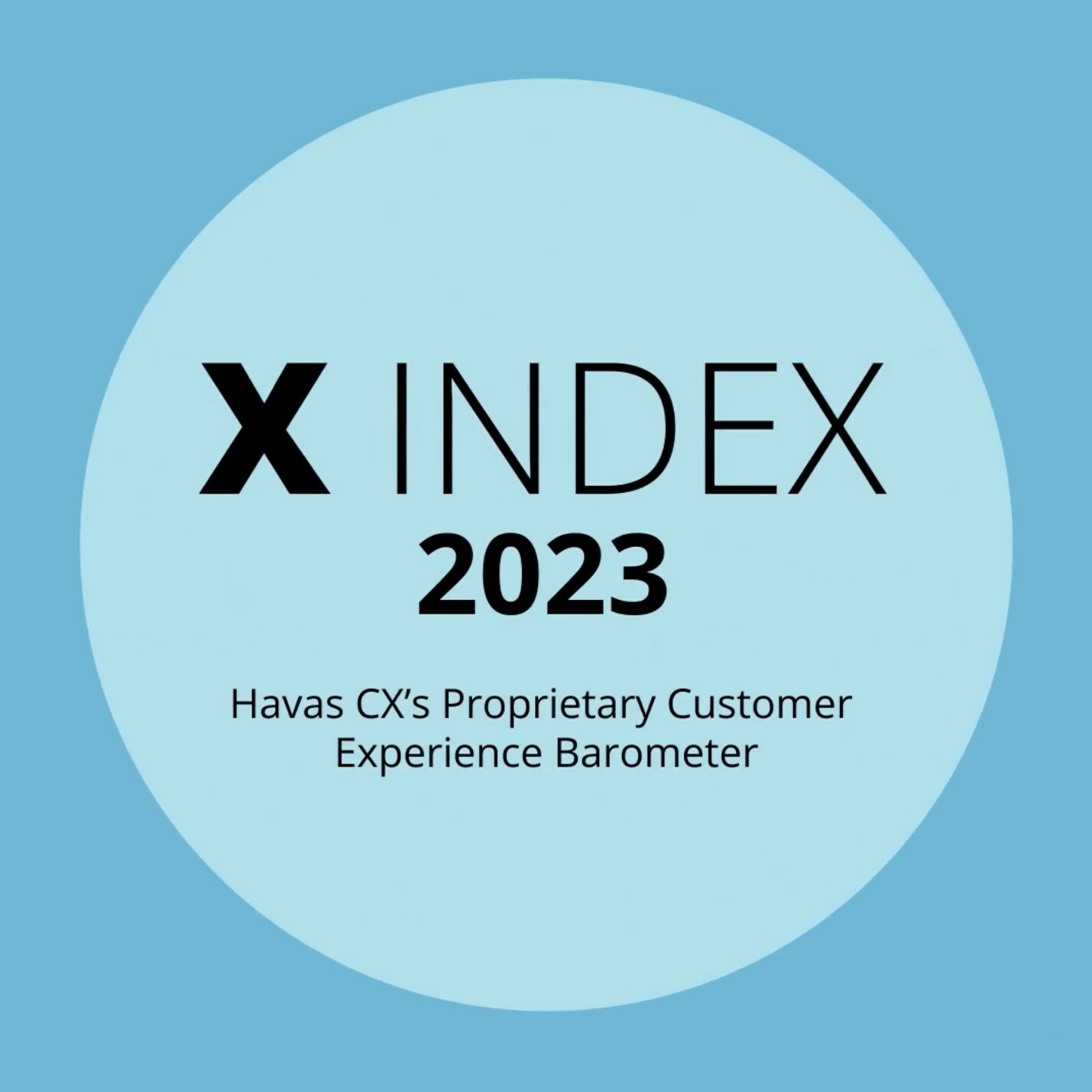 The Fifth Edition of X Index reveals the "Hyper Experience" and how brands can use efficiency, pleasure, personalization, privacy, and community to deliver an exceptional consumer experience
After COVID-19, consumers are still navigating shared global challenges, from inflation and climate change to political unrest and uncertainty, but their expectations for brand experiences are higher than ever. As the 2023 X Index, Havas CX's proprietary customer experience barometer reveals, we are in the "Era of Hyper Experience," where consumers have the highest of expectations from brands across every touch point, from meeting efficiency needs to creating a superior emotional experience. To win consumer loyalty, brands and businesses must simultaneously prioritize function and emotion.
The X Index, now in its fifth year, features a proprietary research tool that helps determine and measure the most critical factors in customer experience. The 2023 X Index applied a new methodology across the survey of 54,000 consumers in ten global markets (U.S., U.K., France, China, Mexico, India, Italy, Germany, Portugal, and Spain) to evaluate the customer experience performance of 500 brands. This year, the X Index introduced 24 metrics to measure what criteria, across functional, emotional, personal, and collective factors, can create a compelling customer experience. It examined customer experience with bricks and clicks brands, retailers that maintain brick-and-mortar stores in addition to selling online, and pure players, Internet-only retailers. The X Index also included a scorecard where consumers evaluated how well brands meet different experience touchpoints throughout the consumer journey, from social media to after-sale service.
The study revealed that efficiency and pleasure are most the important criteria for brick-and-mortar brands and consumers don't want to have to choose between them. Efficiency is the top priority for brick-and-mortar brands in Italy, Portugal, Spain, and the U.K., and pleasure is the top priority for brick-and-mortar brands in France, Germany, and the U.S. Of note, the X Index showed that consumers are more satisfied with brands' efficiency, which they rated 7.27 out of 10 on average in the U.S., than the pleasure they provide, which they rated 7.02 in the U.S.
James Huerta, Executive Director, Creative Technology of Havas CX, says: "Over the last 10 years, low-interest growth capital supercharged the CX of many startups and D2C brands, which has led to rising customer expectations across all categories and business sizes. This year's X-Index report shows us that, globally, modern consumers mostly require efficiency and ease in their transactions, while also expecting that the experience will be pleasurable and enjoyable. Even with global economic pressures, brands will have to maintain the CX that their customers have come to expect."
Today's consumers expect brands to offer a perfect experience across both sides of the coin. In an era of virtually unlimited brand choice and algorithm-fueled customer service, brands who stand out and earn loyalty must go beyond top-notch service to create the ultimate CX, regardless of category or price point. With more options available than ever, the brands with staying power will be those that create exceptional moments and interactions that recognize, respect, and reward shoppers as individuals and understand their unique lifestyles, mindsets, priorities, and needs.
Sébastien Houdusse, Chief Strategy Officer of Havas CX agency BETC Fullsix, says: "We continue to see shifts in the priorities for customer experience, especially as people navigate a difficult and uncertain global landscape. This year's X Index defines the current era of hyper experience where only being great on the functional side of the experience will not be enough. Brands must perform on the emotional criteria, creating memorable, engaging, and pleasurable moments in-store and online to win their customers' hearts. Moreover, businesses will have to push more on data to truly inform their products, services, and experiences in order to compete with 'algo-native brands'. Finally, customers expect brands to create an experience where everyone is invited, represented, and above all, has access."
In assessing the highest-scoring brands in the study, the X Index indicated one clear winner across markets: Apple. The brand placed among the top five brands in seven of 10 markets and was number one in France, Germany, Italy, and Portugal. Notably, it did not place in the top ten in its home market, the U.S., where Chewy remained atop the list as the number one CX brand among Americans for each of the past three years.
The X Index also identified three key principles for brands to create a best-in-class "Hyper Experience":
Make no compromise between efficiency and pleasure
To deliver the best customer experience, brands must be efficient and help customers not waste their time, which consumers ranked as their number one criterion for six pure players across all ten countries. They also value brands that make it easy for them to find what they're looking for, which is the number two criterion for pure players in Germany, Italy, and the U.K. and number two for brick-and-mortar brands in Mexico and the U.K., and answer their requests promptly, which makes it to the top ten in eight countries for brick-and-mortar brands and nine countries for pure players.
In nine of 10 markets, consumers rated brands higher on efficiency than pleasure, so brands have room to improve their emotional connections with their audience. X Index findings point to the importance of an enjoyable and engaging in-store or online experience, and going beyond customers' expectations, which was ranked number one for brick-and-mortar brands in the U.S. and number three for pure players. Finally, customers prefer brands that bring pleasant surprises into the journey between customer and brand, which was chosen within the top ten in all countries.
Balance personalization and privacy
Customer data can help brands reach extraordinary levels of personalization and offer an exceptional product and service experience, but customers expect brands to protect their personal information.
Amongst the consumer experience criteria that customers ranked in their top 10, respecting privacy and personal data was important to consumers in seven out of ten countries, taking advice and feedback into account was ranked highly in four countries, and acknowledging and rewarding customers' loyalty also made it to the top ten in four countries. Interestingly, grades on this criterion are significantly lower than global average in all countries, suggesting that brands still have a long way to go to satisfy customers on CRM programs and loyalty.
Offer an equal and accessible community experience
Brand experiences have the opportunity to create community by giving access to all. Consumers in 70% of countries said that it's crucial that brands embrace diversity and also believe that brands should go above and beyond to guarantee the in-store and online experience is user-friendly for people with disabilities.
To learn more, download the full X Index 2023 whitepaper at havascx.com.
Methodology
Havas CX used a renewed methodology for the 2023 edition of the X index, which looks at a new set of more "holistic criteria" attributes, including Functional, Emotional, Personal, and Collective factors, to define how brands can deliver best CX to consumers. As part of this, consumers were invited to rate twenty-four items defining the perception of the customer experience, as it is proposed to them by brands, from one to ten. These items range from functional indicators (It's easy to find what I'm looking for / I'm not wasting time, it's efficient), to the emotional (The online and in-store experience is enjoyable and engaging / This brand often goes beyond my expectations…) and from the personal (This brand is centered on my needs as a customer / This brand acknowledges and rewards my loyalty well) to what they think serves the collective (This brand makes me feel like I'm part of a community / This brand embraces diversity...).
About Havas CX
Havas CX is as an international network committed to delivering meaningful brand experiences across the entire customer journey. It brings together more than 1,800 people in 26 Havas Villages in 19 countries with key hubs in London, Paris, New York and Mumbai.
The network includes 20 of Havas' global agency groups including ekino (digital transformation), BETC FullSix (customer experience), Havas CX helia (customer engagement), Arnold Fullsix, and award-winning leaders in their markets including Plastic Havas, Boondoggle, Gate One, Think Design, Host/Havas, Project House and Intellignos.
Havas CX is a powerhouse of experts in every area of digital transformation and design, customer experience and customer engagement, eCommerce and much more.