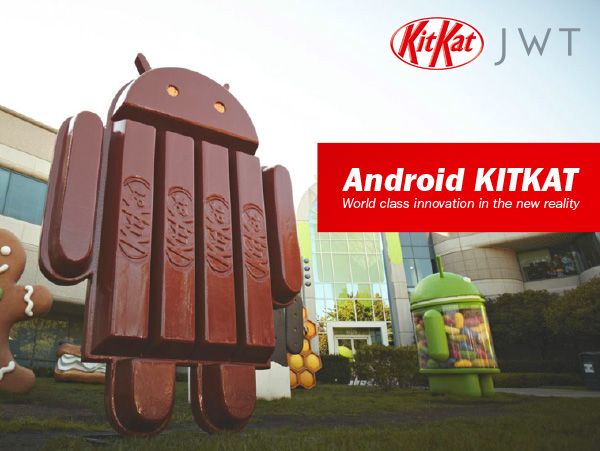 On September 3rd JWT London, Nestlé and Google shocked consumers, the tech, mobile and marketing industries by announcing the next version of the world's most popular operating system would be called Android KITKAT.
Beyond bringing the two companies together, we co-created the Android KITKAT figure with his iconic KITKAT fingers and logos and made a film that generated over 2 million views in less than 72 hours. We also developed a website that's been so popular even its small print trended on twitter – leaving us #grannyeyed.
We created Android branding on 50 million KitKat wrappers globally with a compelling on-pack promotion giving consumers the chance to win Nexus tablets and credit for Google Play.
The speed and scale of the success is startling, with the majority of the world's press covering the story in less than 5 minutes and generating over 1 billion twitter impressions in less than 3 weeks.
Please have a look at the site and film at KITKAT.com
And watch out for more activity as Google launches Android KITKAT to your smartphones.
Have a break on us.